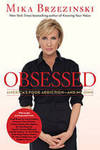 Title
Obsessed: America's Food Addiction-- And My Own
Author URLs
Description
With insights from notable people in medicine, health, business, the arts, and politics, Brzezinski breaks through the walls of silence and shame we've built around obesity and food obsession and talks openly about how our country became overweight, and what we can do to turn the corner and step firmly onto the path of health.
Publisher
Weinstein Books
Keywords
eating disorders, food, eating patterns, broadcast journalism
Subject: LCSH
Brzezinski, Mika -- Health, Compulsive eaters -- Biography, Compulsive eating
Disciplines
Communication | Health Psychology
Repository Citation
Brzezinski, Mika and Smith, Diane, "Obsessed: America's Food Addiction-- And My Own" (2013). Communication and Media Studies Faculty Book Series. 8.
https://digitalcommons.newhaven.edu/communicationandmediastudies-books/8
Publisher Citation
Brzezinski, M., & Smith, D. (2013). Obsessed: America's food addiction-- and my own. New York, NY : Weinstein Books.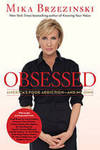 COinS