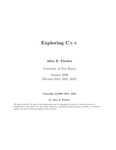 Title
Files
Download
Find this book at the nearest libraries. (190 KB)
Author URLs
Description
This book is intended for use by C programmers who want to learn C++ . . . fast. It may also be helpful for Java programmers learning C++ . It assumes that the reader knows basic programming including types, control structures, functions, arrays, pointers, and simple data structures. The material should help you develop a deep understanding of clean program design and the features that make C++ a powerful and flexible language.
Keywords
C++, programming
Subject: LCSH
Programming languages (Electronic computers)
Disciplines
Computer Engineering | Electrical and Computer Engineering
Repository Citation
Fischer, Alice E., "Exploring C++" (2014). Electrical & Computer Engineering and Computer Science Book Series. 6.
https://digitalcommons.newhaven.edu/electricalcomputerengineering-books/6
Publisher Citation
Fischer, Alice E. (2009). Exploring C++.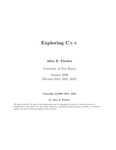 COinS