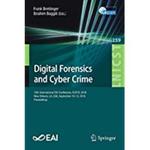 Title
Digital Forensics and Cyber Crime: 10th International EAI Conference, ICDF2C 2018
Author URLs
Description
This book constitutes the refereed proceedings of the 10th International Conference on Digital Forensics and Cyber Crime, ICDF2C 2018, held in New Orleans, LA, USA, in September 2018. The 11 reviewed full papers and 1 short paper were selected from 33 submissions and are grouped in topical sections on carving and data hiding, android, forensic readiness, hard drives and digital forensics, artifact correlation.
Contents: On Efficiency and Effectiveness of Linear Function Detection Approaches for Memory Carving.- fishy - A Framework for Implementing Filesystem-based Data Hiding Techniques.- If I Had a Million Cryptos: Cryptowallet Application Analysis and A Trojan Proof-of-Concept.- AndroParse - An Android Feature Extraction.- Digital Forensic Readiness Framework for Ransomware Investigation.- Forensics Analysis of an On-line Game over Steam Platform.- A Digital Forensic Investigation and Verification Model for Industria l Espionage.- Hard Drives and Digital Forensics.- Solid State Drive Forensics: Where Do We Stand?.- Associating Drives Based on Their Artifact and Metadata Distributions.- Digital Forensics Event Graph Reconstruction.- Multi-Item Passphrases: A Self-Adaptive Approach.- Against Offline Guessing Attacks.- Hybrid Intrusion Detection System for Worm Attacks Based on Their Network Behavior
Publisher
Springer International Publishing
Keywords
digital forensics, data security
Subject: LCSH
Digital forensic science, Cyber forensics
Disciplines
Computer Engineering | Electrical and Computer Engineering | Forensic Science and Technology | Information Security
DOI
10.1007/978-3-030-05487-8
Repository Citation
Breitinger, Frank and Baggili, Ibrahim, "Digital Forensics and Cyber Crime: 10th International EAI Conference, ICDF2C 2018" (2019). Electrical & Computer Engineering and Computer Science Book Series. 7.
https://digitalcommons.newhaven.edu/electricalcomputerengineering-books/7
Publisher Citation
Frank Breitinger and Ibrahim Baggili, eds. Digital Forensics and Cyber Crime: 10th International EAI Conference, ICDF2C 2018, New Orleans, LA, USA, September 10–12, 2018, Proceedings. Lecture Notes of the Institute for Computer Sciences, Social Informatics and Telecommunications Engineering. Springer International Publishing, 2019. ISBN: 978-3-030-05486-1.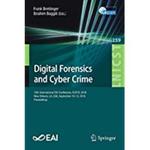 COinS