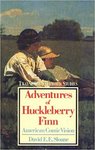 Title
Adventures of Huckleberry Finn: American Comic Vision
Author URLs
Description
Contents:
1. Historical Context 2. The Importance of the Work 3. Critical Reception
A Reading
4. Undermining Authority 5. Huck Acts, An Escape From Sivilization 6. The Raft and the River: Defining an Ethic 7. The Duke and the Dauphin: Authoritarian Fraud 8. The Wilks Episode: Huck and Mary Jane 9. Huck's Moral Reasoning as Heroism 10. The Last Fifth of the Novel as Echo: The Phelps Farm 11. Tying Up Loose Ends
Keywords
Mark Twain, comedy, Adventures of Huckleberry Finn
Subject: LCSH
American wit and humor, Twain, Mark, 1835-1910--Characters--Huckleberry Finn
Disciplines
English Language and Literature
Repository Citation
Sloane, David E.E., "Adventures of Huckleberry Finn: American Comic Vision" (1988). English Faculty Book Series. 8.
https://digitalcommons.newhaven.edu/english-books/8
Publisher Citation
Sloane, D. E. E. (1988). Adventures of Huckleberry Finn: American comic vision. Boston: Twayne.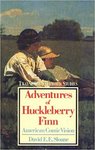 COinS