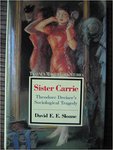 Title
Sister Carrie, Theodore Dreiser's Sociological Tragedy
Author URLs
Description
Theodore Dreiser's Sister Carrie (1900) broke new literary ground in a number of ways. Its graphic documentary style, urban setting, and concern with economic and sociological issues set it apart from popular fiction of the period. In his characteristically detailed and awkwardly methodical style, Dreiser crafted characters and situations that dramatize the forces of economic necessity, social censure, and urban anonymity. Set in turn-of-the-century Chicago and New York, the novel explores the life of Carrie Meeber, a poor rural woman whose naivete and poverty make her an ideal target for the dangers of urban life. Dreiser depicts the dilemma created by Carrie's desire to succeed and find security in a morally and financially compromised society that lures her with its glitter. David E.E. Sloane's study proposes that Dreiser's sociological tragedy uses the details of the cityscape and the lives of its urban characters to build a drama in which none of the characters are able to achieve real happiness. Sloane demonstrates how Dreiser used themes already of concern to his readers but managed them in ways that challenged the moral and sexual assumptions of the day. Sloane's thesis is that the novel addresses economic inequality by showing that even in the poor and inarticulate like Carrie Meeber there are physical and spiritual drives that need expression but that are repressed by social mores. The study offers a detailed examination of how Dreiser's stylistic and structural choices are perfectly suited to his material, and shows how the novel forged the way for other socially conscious works in the twentieth-century.
Publisher
Twayne Publishers
Keywords
Sister Carrie, Theodore Dreiser, tragedy
Subject: LCSH
Dreiser, Theodore, -- 1871-1945. -- Sister Carrie, Social problems in literature, Tragic, The, in literature.
Disciplines
English Language and Literature
Repository Citation
Sloane, David E.E., "Sister Carrie, Theodore Dreiser's Sociological Tragedy" (1992). English Faculty Book Series. 9.
https://digitalcommons.newhaven.edu/english-books/9
Publisher Citation
Sloane, D. E. E. (1992). Sister Carrie, Theodore Dreiser's sociological tragedy. New York: Twayne Publishers.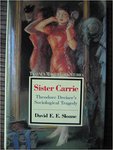 COinS