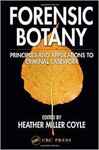 Title
Forensic botany: Principles and Applications to Criminal Casework
Author URLs
Description
"Bringing together the latest information on the use of plant evidence to reconstruct crimes, this book introduces the basic science underlying this emerging field of forensic botany. Contributors discuss the recognition of pertinent plant evidence at a crime scene, the appropriate collection and preservation of the material, and maintenance of a chain of custody. They also explain scientific testing methods, the validation of new forensic techniques, and admissibility criteria for court. An overview of plant biology and historical developments in forensic DNA analysis is also included, as well as case examples featuring the use of botanical evidence in a variety of criminal cases."--Jacket.
Keywords
Forensic botany, botany
Subject: LCSH
Forensic botany, Botany, Forensic Sciences -- methods.
Disciplines
Botany | Forensic Science and Technology
Repository Citation
Coyle, Heather Miller, "Forensic botany: Principles and Applications to Criminal Casework" (2005). Forensic Science Book Series. 2.
https://digitalcommons.newhaven.edu/forensicscience-books/2
Publisher Citation
Coyle, H. M. (2005). Forensic botany: Principles and applications to criminal casework. Boca Raton, Fla.: CRC Press.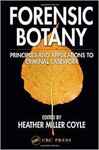 COinS